In the world of e-readers, iPads, and Audible promotions that saturate nearly every social media platform, I often find myself yearning for the classic feel of a printed book. To me, there's no experience quite like picking up a used book to find solace in a different world for a bit. The soft, yellowed pages that have worn at the corners. The familiar rustling of the pages turning. The intoxicating scent (which, if this article is right, can rival the delicious smells of chocolate and coffee). It's sensory overload.
If you've been a reader since this blog launched last month, or if you know me personally, then it's been made painfully aware to you that I make few purchases that aren't the direct result of some kind of sale. I'll barter with vendors at consignment. I'll peruse the sale racks at department stores. I'll even troll those silly "yard sale" groups on Facebook to ensure I'm paying next to nothing for most everything I choose to buy. This includes books. I couldn't tell you the last time I bought a book that wasn't on sale, and at the beginning of February I found myself venturing into the mecca of used books: the bi-annual Friends of the Library Book Sale sponsored by my local library. And let me tell you…I. Went. Wild.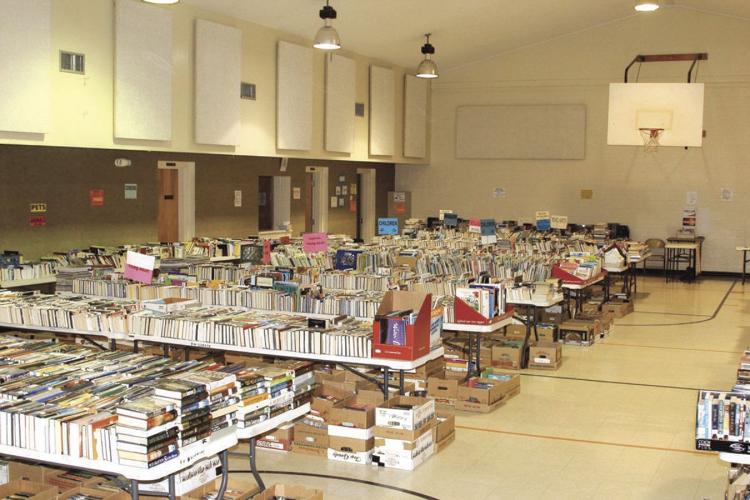 Twice a year, the McCracken County Public Library turns the gymnasium at St. Paul Lutheran Church into what I imagine heaven actually looks like. There's a selection of home-baked sweets at the entryway to a room full of dozens of folding tables piled high with books from literally any genre you could ask for. Are you interested in learning how to cook the cuisine of a specific nationality? There's a whole table of cookbooks. Want to know more about a failed political candidate from the GOP's 2016 primary election? This year, there were two tables of political nonfiction. There are also tables filled with audiobooks, all sorts of resources for children, and nearly 20,000 titles to choose from all for under $1. It's the stuff dreams are made of. And maybe the best part is that I know the funding goes back into my local community. The after-school programs that so many of my students participate in, the community reading projects that I know encourage so many non-readers to pick up a text, the guest speakers that are brought to talk to local youths…all are funded through projects like this book sale. It's the same in your community, too. I promise.
This year, I Marie Kondo'd my brain enough to restrain making a ton of unnecessary purchases and limited myself to a $10 budget, which still afforded me ten different selections from what was available. I was able to gift a couple of the purchases I made, which unfortunately I forgot to photograph before I sent them to their new owners. One was a hardcover copy of President Jimmy Carter's Revolutionary War novel, The Hornet's Nest, which I gifted to my best friend, a fellow English teacher and aficionado of history and politics. The other was a roughed-up (but clearly well-loved) paperback edition of James Frey's controversial "memoir" A Million Little Things which was purchased for a co-worker as part of a Facebook challenge to buy five books for five friends. I added a couple books to my classroom library, including a hardcover copy of Maya Angelou's I Know Why the Caged Bird Sings (with perhaps the most beautiful cover I've seen of any edition of that text) and a hardcover copy of Jacqueline Woodson's National Book Award winner, Brown Girl Dreaming.
What's left is a mishmash of literary fare that I can't wait to clutch between my fingers, to bury my nose into (quite literally, to smell the smoky scent of the pages), and to escape into.
I like to think these choices capture exactly what you might find at your own library book sale. Thanks to my former professor and current friend Danielle Nielsen of Murray State University, I've fallen in love with Zadie Smith's work, so when I saw NW among a stack of fiction, I knew it had to be mine. I picked up four more novels of varied genres, too: We Were the Mulvaneys by Joyce Carol Oates, who has wrecked me ever since I first read "Where Are You Going, Where Have You Been?"; A Lion Among Men by Gregory Maguire, who is responsible for creating one of my favorite literary characters in Elphaba; Everyday People by new-to-me author Stewart O'Nan; and John Green's Will Grayson, Will Grayson, which I've wanted to read since I first read The Fault in Our Stars. I also picked up a copy of a Flannery O'Connor biography that I can't wait to dive into. In another life, I'd like to think I could be as talented as her.
The possibilities at these book sales really are endless, guys. Take a chance. Look at your library's calendar to see when they'll be looking to get restock their shelves with newer material and go see what you can find. I'd love to know what you found, so leave me a comment on social media, leave a comment, or shoot me an e-mail.
Until next time…